Momentum Trading, Made Easy!
Woah! 40% gains in minutes?

HOW do you find these BEFORE the move is already done?

ANSWER: A few simple settings on our stock screener.
My 5 Easy Settings for Momo Wins
My favorite settings for finding runners (highlighted with a yellow border in the filter settings below)...
Only Stocks
Price Range = 1 to 15
Volume > 100 (I change this to > 100k after 2pm)
2 minute % change greater than 0%
SORT = 2 Minute Price Move in Descending Order
A few extra tips
The lower the float and stronger the volume, the better. If there are few shares available to trade (aka float), then when a ton of volume hits the stock it can move fast.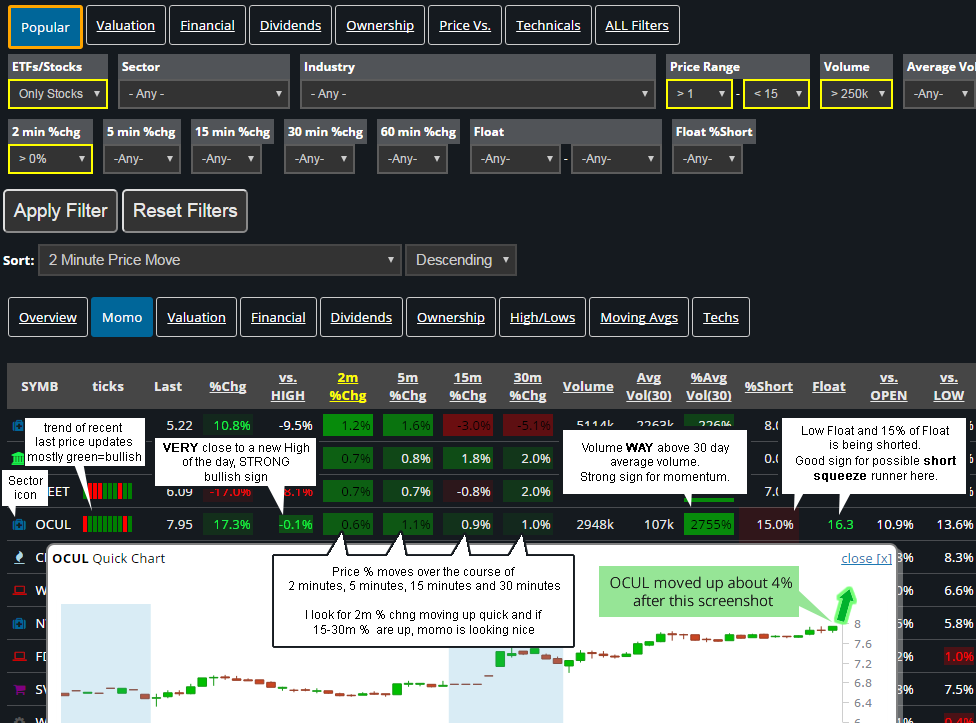 We do it for the fans...
Great platform. Really like it. Been trading for 1 year and I was looking for a momentum scanner without joining those chatrooms that confuse more than they help and I did all 3/3 profitable trades today using this scanner! Keep up the good work!" -R. Kundu
Very Impressed" - D. Long
OMG!!! The new screener just blew (my) mind." S. Flemming
I put $4000 on AUPH this morning. Just sold it. $1127.78 profit." - Roger
Past performance is not indicative of future results. The material contained on this page is intended for informational purposes only. GetStockIdeas is wholly-owned by PortOasis, Inc (PO) PO is not a compensated investor relations firm. GetStockIdeas (GSI) offers a monthly, paid membership stock information tool. Our website and newsletter are neither an offer nor recommendation to buy or sell any security. We hold no investment licenses and are thus neither licensed nor qualified to provide trading advice. The content of our website and/or newsletter is not provided to any individual with a view toward their individual circumstances. While all information is believed to be reliable, it is not guaranteed by us to be accurate. Individuals should assume that all information contained on our website or in our newsletter is not trustworthy unless verified by their own independent research. Also, because events and circumstances frequently do not occur as expected, there will likely be differences between the any predictions and actual results. Always consult a licensed investment professional before making any investment decision.
Be extremely careful, investing in securities carries a high degree of risk; you may likely lose some or all of the investment. We reserve the right to buy or sell shares of any company mentioned on our website or in our newsletter at any time. Futures, forex, stock, and options trading is not appropriate for everyone. There is a substantial risk of loss associated with trading these markets. Losses can and will occur. No system or methodology has ever been developed that can guarantee profits or ensure freedom from losses. No representation or implication is being made that using the information on this website will generate profits or ensure freedom from losses. Hypothetical performance results have many inherent limitations, some of which are described below. No representation is being made that any account will or is likely to achieve profits or losses similar to those shown. In fact, there are frequently sharp differences between hypothetical performance results and the actual results subsequently achieved by any particular trading program. One of the limitations of hypothetical performance results is that they are generally prepared with the benefit of hindsight. In addition, hypothetical trading does not involve financial risk, and no hypothetical trading record can completely account for the impact of financial risk in actual trading. For example, the ability to withstand losses or to adhere to a particular trading program in spite of trading losses are material points which can also adversely affect trading results. There are numerous other factors related to the markets in general or to the implementation of any specific trading program which cannot be fully accounted for in the preparation of hypothetical performance results and all of which can adversely affect actual trading results.
The testimonials presented on any of our Company's websites are applicable to the individuals depicted only and may not be representative of the experience of others. The testimonials are not paid and are not indicative of future performance or success of any other individuals. Our Company cannot and does not guarantee any results of individuals or couples utilizing the material provided by the Company on any of our websites.